GREETINGS
In the climate that lets you experience four distinct seasons - winter, with Japan's heaviest snowfall, spring, surrounded by fresh greenery,
summer, with heat relieving river fun, and autumn, colored by red leaves - Minami Uonuma Koshihikari rice, praised as the most delicious in Japan,
is born from the untiring work of the rustic, diligent people of the area who know also how to withstand heavy snowfall.
We would like you to get to know the Maruyama Hot Spring, with a tradition of more than sixty years and its hot spring water quality,
said to be the best in the prefecture, as well as the four seasons, the food, and the people of Minami Uonuma Ishiuchi, and hope,
that even if you stay only one night, you will love this land as much as we do.
ROOMS

Experience a leisurely flow of time only found at Kojyokan. Unwind in our tranquil Japanese-style room
suited to the name Kojyokan, or in our cozy Western loft-style twin.
The Junior Suite 103

Japanese Suite

Japanese Room

Western Rooms
ACCESS
Zoom in and out of map using + and - top left.
Guests Coming by Airplane

Niigata Airport

Limousine Bus Niigata Airport Line About 25 minutes

Niigata Station

Joetsu Shinkansen to Tokyo About 45 minutes

Echigo-Yuzawa Station

Free Shuttle Bus About 15 minutes
Narita Airport

Narita Express About 1 hour

Tokyo Station

Joetsu Shinkansen to Niigata About 1 hour 30 minutes

Echigo-Yuzawa Station

Free Shuttle Bus About 15 minutes
Haneda Airport

Limousine Bus Haneda Airport Line About 30 minutes

Tokyo Station (Yaesu South Exit)

Joetsu Shinkansen to Echigo-Yuzawa About 1 hour 30 minutes

Echigo-Yuzawa Station

Free Shuttle Bus About 15 minutes
Guests Coming by Car

Tokyo Nerima IC

Kan-Etsu Expressway About 2 hour 30 minutes

Shiozawa Ishiuchi IC

National Route 17 About 4 minutes
Maebashi IC

Kan-Etsu Expressway About 50 minutes

Shiozawa Ishiuchi IC

National Route 17 About 4 minutes
Niigata-Nishi IC

Hokuriku Expressway About 30 minutes

Nagaoka IC

Kan-Etsu Expressway About 1 hour

Shiozawa Ishiuchi IC

National Route 17 About 4 minutes
Kanazawa Higashi IC

Hokuriku Expressway About 3 hour 30 minutes

Joetsu IC

National Route 353 About 1 hour 30 minutes
Ski Information
Loaded with Special Offers! Winter-Only Deals
Our hotel guests-only shuttle takes you to Ishiuchi Maruyama Ski Slopes in 1 minute, Maiko Snow Resort in 5 minutes, and Gala Yuzawa in 10 minutes.

Parking is available starting from 7:00 AM on your arrival day, and we stow luggage and let you change clothes in the locker room free of charge.

Complete with rental skis (Charges apply)! Enjoy skiing and snowboarding without having to pack any equipment.

Baths may be entered free of charge until 6:00 PM after check-out (*Unavailable from 10:00 AM to 2:00 PM due to cleaning)

After check-out, parking and stowing luggage or changing in the locker room is available free of charge until 6:00 PM

Comes with a drying room and ski locker so you can put your mind at ease ♪ We also lend snow boots and sleds free of charge.

There is a free shuttle bus between the hotel and Echigo-Yuzawa Station (Time:8:00 AM to 6:00 PM, reservation required)
About Shuttle Service to the Ski Resorts
Our hotel offers a shuttle service to the ski resorts in the area.

*Shuttle service is free of charge.
*Ski resorts in the area are usually open from mid-December to early April (Dates may vary depending on snowfall, so please check the website of each ski resort for details)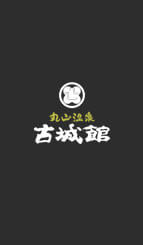 CUISINE
Lavish banquet dining brimming with seasonal delicacies from Niigata.
Enjoy distinctive banquet dining featuring Koshihikari rice from Minami Uonuma, Echigo Mochi Pork, and red snow crab direct from the seas of Sado.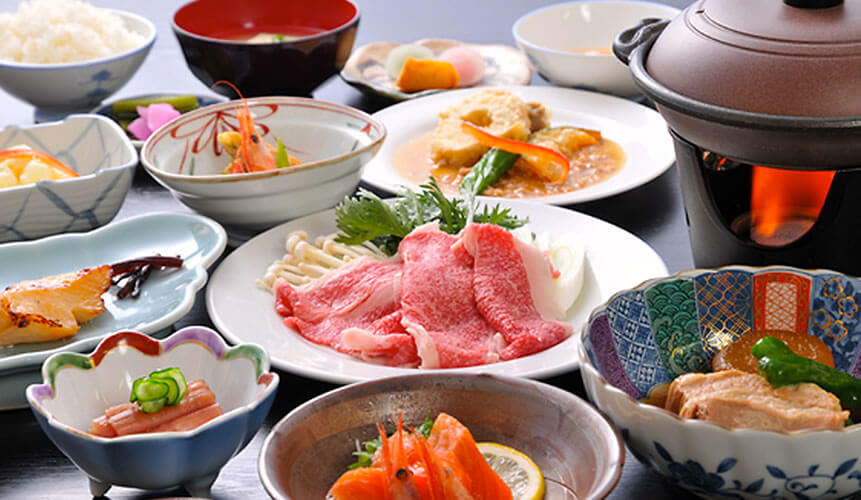 1 Night / 2 Days Plan
A standard plan including dinner on the first day and breakfast on the second. Enjoy the four seasons with fresh verdure in spring, river fun in summer, red leaves in autumn, and skiing in winter.
About Dining Options
Fresh seafood from the Sea of Japan

[Sashimi platter] can be reserved as an option for dinner (from 2 servings up to 2 days in advance)Please enjoy the sashimi of fresh fish and shellfish grown in the rough seas of the Sea of Japan with Japanese rice wine.

Echigo Mochi Pork Shabu-Shabu

Sourced from Yamada Livestock in Minami Uonuma, Echigo Mochi Pork is renowned for its thick, juicy meat! We offer this plan, featured countless times on television, at a reasonable price.
*Since it is an all-you-can-eat menu, all members of a party must order the course
Seasonal cuisine that lets you taste Japan
Echigo SakeThe Famous Sakes of Echigo
The suitable "climate", good "rice", and clear "waters" are what makes the sake of Echigo.
The ultra-soft snowbelt water with few minerals lets the sake ferment slowly, resulting in a refreshing taste.
We recommend a rare sake available only at our hotel called Koshino Fukuzo.
ONSEN
An open-air bath surrounded by fresh verdure in spring, the chirping of bugs in summer, red leaves in autumn,
and snow in winter. Warm your body and soul at this unique Maruyama Hot Spring open-air bath.
There are two baths to enjoy morning and night.
Ishi-Bocha Bath Area

A bath decorated with stone from which Ishiuchi gets its name.
There is a jet bath at the indoor area of Ishi-Bocha as well.

Kura-Bocha Bath Area

A bath built in a renovated and reinforced century-old warehouse.
Reservations are available at the front
Private open-air bath Hoshi-Bocha
A completely private rooftop bath. Enjoy a soak surrounded by the starry night sky and the mountains of Ishiuchi, still teeming with nature.
Time
15:00/16:00/17:00/18:00/
19:00/20:00/21:00
Last Entry22:00~22:45
Fee
Capacity: 4 persons 45 minutes Ordinary Price: 5,500 yen→ Overnight Guests: 1,650 yen
Hot Springs Overview
Time
Night 14:00〜23:00 Morning 6:00〜10:00
*Guests coming for skiing and snowboarding during the winter season may enter the baths free of charge until 6:00 PM after check-out
*The large bathing areas Kura-Bocha and Ishi-Bocha switch between men and women in the morning and at night. Enter as indicated on the bath curtain.
Example: At night, if Kura-Bocha is open for men and Ishi Bocha is open for women, then the following morning Kurobocha will be open for women and Ishi-Bocha will be open for men.
Day Spa Guests
14:00〜21:00
Weekdays, Per Person: 1000 yen Holidays and Days Before Holidays, Per Person: 1500 yen・Towel 300 yen(We may not be able to accommodate day spa guests during the winter season and before holidays when the hotel is especially busy)
Amenities
Shampoo, rinse, body soap, dryer, shaving razor, comb, facial cleanser, facial moisturizer, milky lotion, body lotion, hair cream
Benefits
Benefits joint pain and recovery from fatigue.
The Maruyama Hot Springs at our hotel are 100% natural hot springs sourced from 650 meters below Sanroku of Ishiuchi Maruyama Ski Resort using a heated recirculation filtration method. The spring is a sodium chloride spring (weak alkaline, hypotonic, low temperature). It benefits the entire body by promoting blood circulation, making it effective for recovery from fatigue, rheumatic disease, motor dysfunction, chronic eczema, keratosis, and sickly children, as well as for gynecological afflictions such as uterine hypoplasia and menopause. When you enter the bath 2 or 3 times a day, the effects are remarkable.
FACILITIES
For pleasant, comfortable hospitality.
Renovated and reopened for the 2014 season!
Dining Area Koshihikari

After-Bath Resting Area Jonnobi

Local crafts (specialty items)

Banquet Hall Raku Raku

Activity

Pillow selection & women's yukata selection
SIGHTSEEING
Echigo Tsumari Art Field15~60 minutes

Set in Echigo Tsumari, a land beset with some of the heaviest snowfall in Japan as well advancing depopulation and aging, this is a world-class international art festival held once every three years.
Held in an area where people still live in close connection with the land through farming, this event is attracting attention both domestically and internationally as a leading example of community development through art.
The last installment of this event in 2015 saw a record 510,000 visitors and brought roughly 5 billion yen worth of economic benefits and employment.

Bokushi Street15 min

Yuzawa Kogen Alpine Flower Park10 min

Minamiuonuma City Resort Tourist Association10 min

Yuzawa Town Tourist Association10 min

Tokamachi Tourist Association40 min